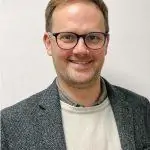 Michael Hardie from The Leprosy Mission presents at Didsbury SciBar and discusses the people affected by leprosy in Bangladesh and the efforts the Leprosy Mission is making to prevent any more cases of Leprosy.
Hansen's disease (also known as leprosy) is an infection caused by slow-growing bacteria called Mycobacterium leprae. It can affect the nerves, skin, eyes, and lining of the nose (nasal mucosa). With early diagnosis and treatment, the disease can be cured.
Michael Hardie has been at The Leprosy Mission Since November 2022.
Michael grew up Baringa in the Democratic Republic of the Congo in the middle of the African jungle which was on an old Leprosy colony where, even though based at the other end of the village, the Leprosy Community were a central part of the community – contrary to the local culture they were cared for and fed by the village. The Leprosy patients left a significant impression on Michael growing up.
He has a strong love for those affected by Leprosy – for good health care, Christian discipleship, social justice, and sustainability.

Monday 21st August. 18:45 start.
FREE admission
The Albert Club
Old Lansdowne Road
West Didsbury
Manchester M20 2PA

Register via Eventbrite to join this event online