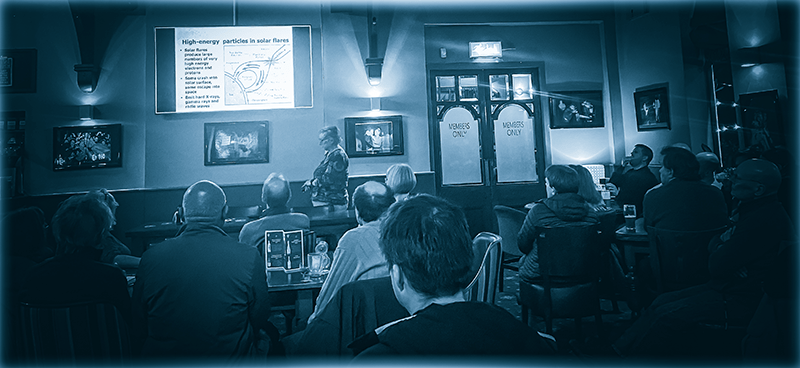 Talk to Us

Speak at Didsbury SciBar
Would you like to present at a Didsbury SciBar?
At Didsbury SciBar, we are continually looking for individuals or groups in a specialist STEM field who would like to share their experience and promote a subject to a wider audience.
If you are a scientist, researcher, academic or passionate volunteer who would like to speak at Didsbury Scibar, either in-person at our Didsbury, Manchester venue or online via Zoom* please get in touch – we'd love to hear from you and hopefully schedule you in our events calendar.
We are currently looking for speakers for September 2024 onwards.
About Didsbury SciBar
Didsbury SciBar was originally conceived by the NW branch of the British Science Association and has been running since 2008 at The Albert Club, West Didsbury, Manchester.
Following the BSA's restructuring in 2018, and the subsequent departures of both our longstanding organiser Mark Hillen and BSA coordinator Lorelly Wilson, Didsbury SciBar has expanded independently under the stewardship of a collective of passionate volunteers with backgrounds in Science, Tech and Engineering led by Sarah Murray. Didsbury SciBar is now affiliated with other former BSA SciBars in the North West via the North West Science Alliance.

At Didsbury Scibar, we've had a wide range of speakers join us and present on their specialised subject to an audience of 30-100 and, during the COVID lockdown, we successfully took Didsbury SciBar exclusively online, hosting over 30 online events and enabling us to reach a wider audience, drawing in both attendees and speakers internationally.
Didsbury SciBar now has an audience of almost 700 mailing list subscribers, with an above average CTR of ~39%. 80% of the list members are based in the UK, 70% of which are in the Manchester area.
Our recent SciBar events, hosted in-person and simultaneously livestreamed to our remote attendees, have attracted audiences of between 30 and 50 attendees in-person, and, despite the inevitable post-Covid decline in online attendance, still retain another ~20 online attendees each month.
I'm Interested…
The Didsbury SciBar format is a short 30-60 minute presentation then an interactive Q&A, discussion/debate with the audience afterwards. Beyond that, the floor is yours… bring slides, props, marketing – whatever you see fit.
As a volunteer led organisation hosting free events, we receive no funding and are unable to pay for your time, unless by prior arrangement, although we will promote and market the event on our own channels and in local media.
I'm still Interested…
Please get in touch with Sarah Murray, Didsbury SciBar's speaker coordinator, if you'd like to showcase your specialist subject at one of our events – [email protected] – we would love to hear from you and hopefully fit you into our 2023/24 schedule.
---
For in-person events, the team at Didsbury SciBar will provide all the necessary hardware and software to hook up your slide deck to the AV system in the main room at The Albert Club and optionally to stream online via Zoom* – just bring your presentation on a USB drive in a format of your choice.

If you want to bring your own equipment, it will require either HDMI or USB-C output for video and audio and USB-A for a remote bluetooth pointer device. We don't have support for older VGA devices. An internet connection is also available via The Albert Club's WiFi network.
Online events will be hosted via Didsbury Scibar's Zoom account, access to which is exclusive to participants pre-registered via our Eventbrite channels. The Didsbury SciBar team will fully moderate the event.
* The interactive Zoom livestream is exclusively for our pre-registered online audience. Where possible, at the speaker's discretion, we aim to record the event for playback on our YouTube channel.

Past Speakers